Aloha and Welcome to Sacred Heart Church Pahoa
"Cor ad cor" ... Heart to heart!
Church In An Old Hawaiian Town - by John Noble
---
Coming to Sacred Heart Pahoa
Santo Nino Festival
January 27, 2019 10:00 am Mass
Potluck Fiesta lunch to follow

By: Thomas M. Landy
Devotion to the Santo Niño (Holy Child), an image of Jesus as a small boy typically dressed as a king, is a mainstay of Philippine Catholic life. Devotions to him are part of every parish's life, and in some places a major feast of the year. Some image of Santo Niño is found in almost every Filipino home, because Filipinos believe that the Santo Niño is their protector and has the power to grant and answer their prayers.
The oldest and most popular Santo Niño image is the Santo Niño of Cebu. That image is particularly revered by Cebuanos, people from the region in and around the city of Cebu, where the Spaniards set up the first colonial capital. But Santo Niño of Cebu devotion has spread beyond that region, and images of it are a common sight in homes and shops around the country and in the Filipino diaspora.
In the 21st century, this level of devotion to an image of a boy Jesus is unique to the Philippines.1 In Cebu, devotion to the Santo Niño reaches a fever pitch early in January, when crowds flock to the basilica that houses it, and the city and its harbor are taken over for days by processions, colorful parades and other celebrations. The name of that feast, Sinulog, refers to a ritual dance inspired by and performed before the Santo Niño. In recent years the events have drawn 1.5 to 3 million participants in a city of fewer than 900,000 people, making Cebu's celebration one of the largest annual events in the Catholic world.
Other cities in the Philippines, including Malolos, Bustos, Kalibo, Tacloban, Panay and Bacolod, have their own particular images of the Santo Niño, many dating back to the 16th century. Each of these also has its own feast, as does Manila's Tondo church, which houses an image known as Santo Niño de Tondo brought to the country in 1572.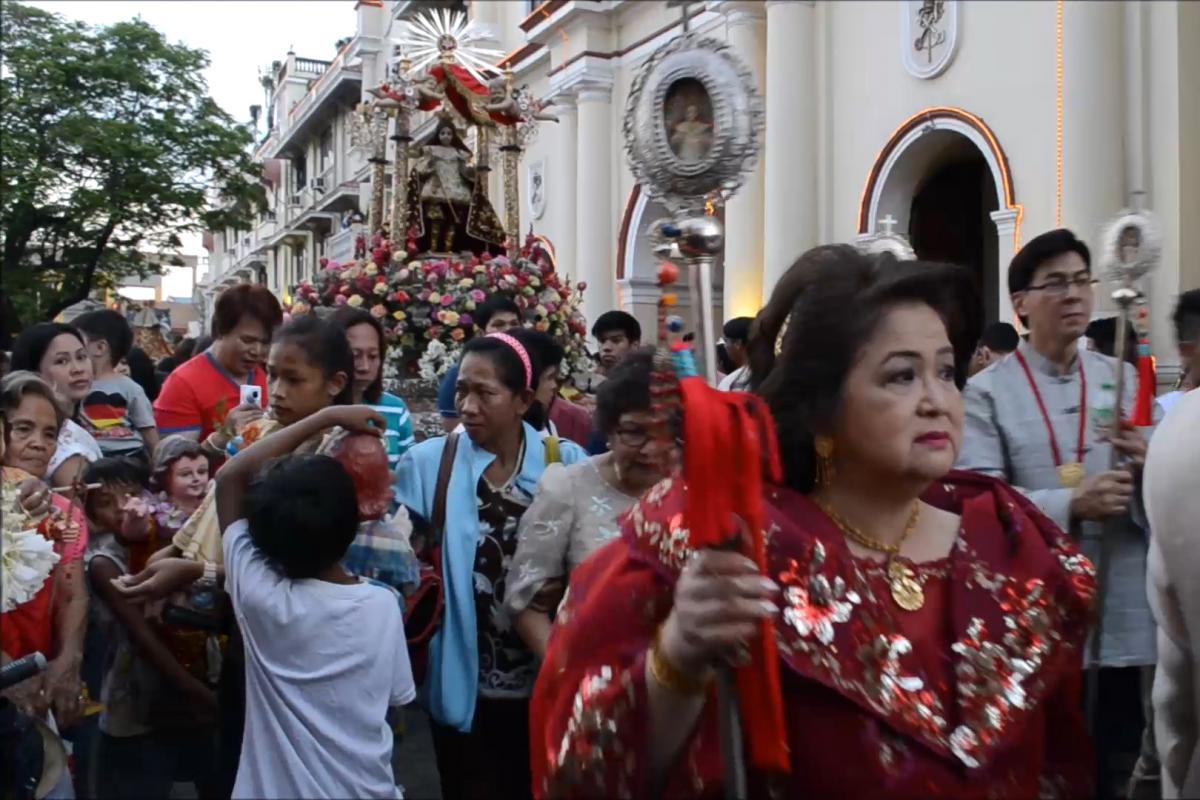 ---
In January, 13 Big Island pilgrims will travel to Panama City, Panama, to see Pope Francis and hundreds of thousands of other spirit-filled Catholics. They are headed for the 2019 World Youth Day, Jan. 22-27, a global gathering of the young, and young at heart, celebrating, absorbing, engaging, acclaiming and communing in their common faith.
Annunciation Parish in Waimea will send four youth to Panama accompanied by their pastor Father Stephen Macedo, the pastor of St. Michael Parish in Kailua-Kona Father Lio Faletoi, three parents, three church-sponsored adults and another adult from Hilo. More
World Youth Day Panama City 2019
---
The Stewardship Way of Life
---
It Took a Village to Raise a Village
The donation of land by the Diocese of Honolulu has motivated the creation of a neighborhood of micro-houses for families left homeless by Kilauea volcano.
By Patrick Downes
Hawaii Catholic Herald

Mass Schedule


Sunday
7:00am, 9:00am, and 11:00am
Daily
Monday, Wed-Saturday 8:00am
Saturday Vigil - 5:00pm
First Friday
4:00pm
Confession
Saturdays 4:20-4:50pm. or by appointment
Daily Mass Readings and Reflections
---
Parish & Diocesan Giving
For most Catholics, opportunities for giving begin in their parish and diocese. Diocesan and parish stewardship programs should help individuals, families and communities better understand why, in the context of a total commitment to stewardship that is planned, proportionate, and sacrificial, it is important to set goals for giving. All Christian stewards must consider prayerfully the gifts they have received from God, and they should make a decision (in advance from the "first fruits" instead of what is left over after obligations have been met) about what will be given. Many parishes now offer electronic funds transfer options for the weekly offertory in addition to the traditional envelope system to help families and individuals meet their stewardship commitments